TAVARES STEPHENS (Spoken Word/Inspirational Music Artist)

http://www.tavaresstephens.com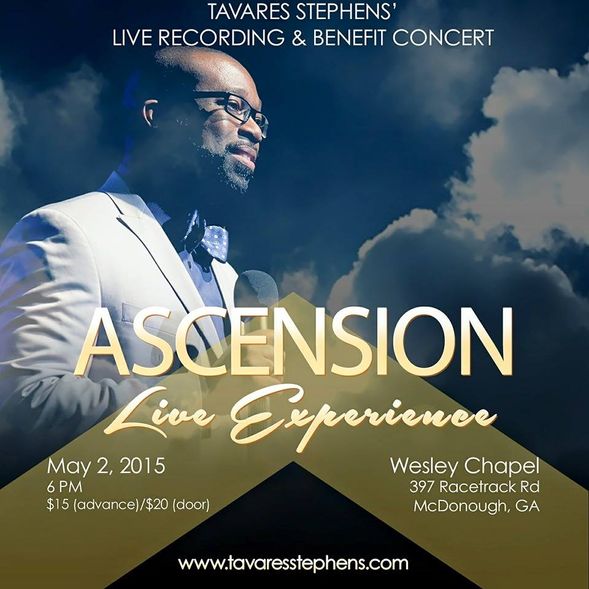 Order tickets via Eventbrite:

http://www.eventbrite.com/e/ascension-the-live-experience-tickets-9426897103?aff=efbevent


*Join Tavares Stephens for the live recording of his upcoming album. Ascension: The Live Experience is sure to help each us rise to the higher place and destiny God has ordained.
Tavares as a Songwriter and Music Producer


Tavares is a modern day psalmist whose amazing journey as a songwriter, poet, and producer illustrates how the grace of God's births gifts meant bless and inspire. Since 2009, Tavares has steadily written and co-produced a catalog of music that at its core is the message of the Gospel and a true gift of inspiration. It is filled with melodies, arrangements, lyrics, and poetry that speak of the love and redemption of God, the joy of salvation, and the power and guidance we receive because we are God's children.  When asked about being called to walk on this journey, Tavares says simply, "Without God, this journey would not be real or possible. I want to always do my best to share the music, songs, and poetry He gives me in the spirit, truth, and love in which they were given. If I can do that, I know that someone's life will be blessed, not because of me, but because of God's grace."
Tavares as a Poet and Author
Tavares is a unique poet and spoken word performer who's stirring and profound poetry helps listeners and readers realize that every challenge and trial is a pathway to triumph. His poetry runs the gamut of the human condition from politics to love to family to overcoming trials and spirituality. He also weaves the art of storytelling into his work by relating his poetry to stories and experience that have shaped him as an artist, classroom teacher and servant.
He is the writer and producer of the poetry cd Lend Me Your Ear and Reading Revolution, a book of biographies covering important contributions from the African Diaspora. Tavares has worked as a freelance columnist for the Atlanta Journal-Constitution and is a freelance curriculum writer and trainer for The Learning Together Company, which helps to raise student achievement in the areas of reading and math.